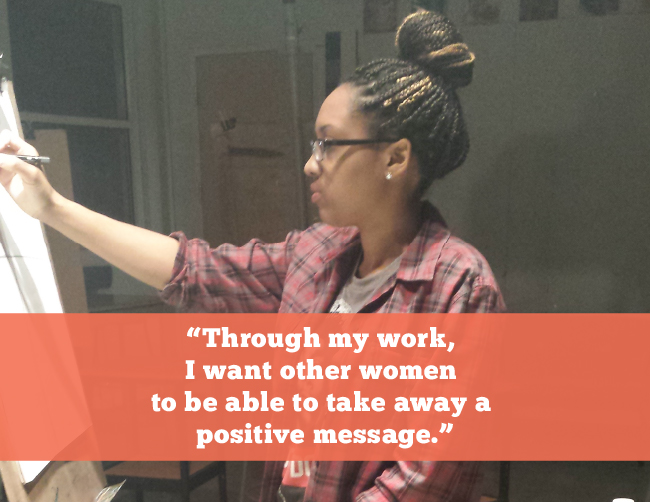 Tell us about yourself and what you do.
I am Terrionna Brockman, an artist and student from Morrilton, Arkansas. I am a graphic design major at Arkansas Tech University where I also minor in Spanish. I was the child who loved coloring and drawing, and I would always make random drawings for my mom for no apparent reason. In elementary school, I just drew for the fun of it. It wasn't until junior high where I actually tried to draw things I saw the best I could. In ninth grade, my true potential came through, thanks to my art teacher, Mrs. Rutz. She recognized my potential before I saw it in myself, and I'm thankful for her because she always pushed me to work harder at my craft.
When and why did you become an artist in your field?
I didn't know about graphic design until I was in the 9th grade. Initially, I wanted to be a teacher or biologist. When I was around 7 or 8 years old, I would play around with PowerPoint and create layouts as if I were having to present something. I'd play around with text and images until I thought it looked good, but I had no idea what I was doing. I just knew I loved to work on the computer. In junior high, I used to edit photos using photo editing websites. This was way before I was introduced to Photoshop. My ninth grade year, I took a class called "Desktop Publishing" where I was introduced to Photoshop, Adobe Illustrator, and InDesign. My whole world changed! I was so drawn in and I wanted to learn more. Soon after, I found out that this was a field of study and it was called Graphic Design. Since then, I had my mind set that I would go to college for graphic design and I did. I enjoy being able to think creatively and work hands on. Graphic Design is a very diverse field as well, which I love!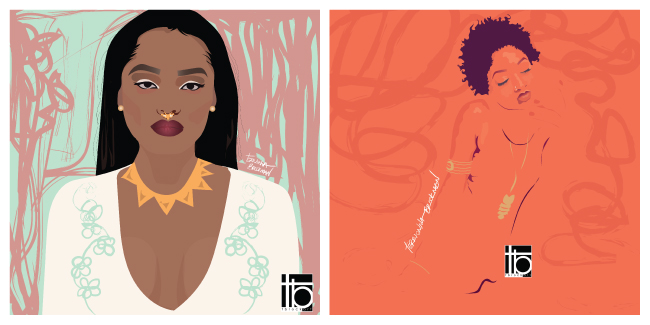 "Pretty" and "Nashi" by Terrionna Brockman
What is your biggest obstacle as an artist? What is your biggest success?
My biggest obstacle as an artist as of now would have to be getting my artwork sold and out there for the world to see. Not everyone appreciates art, which is tough at times because as an artist you're trying to sell your work. When no one is buying your work or supporting you, it can be disappointing.
My biggest success would have to be designing the Arkansas Tech University's Art Department newsletter and flyers. I am an intern in the department, which has been a great experience for me as a designer. It's just really cool to be able to create something for my University that pretty much everyone will see. It's very rewarding!
What inspires your work?
The world itself; There's so much diversity around us and it makes for great subjects in art. I also love African culture as well as urban culture. Growing up (and even in school), I didn't really see much "Black Art." The majority of my work are of black women, and I'm big on the empowerment of women as well as diversity. Through my work, I want other women to be able to take away a positive message. I'm always trying new things with my art and usually want to create something from whatever has my attention at the time.
What advice would you give an aspiring artist?
Never compare your work to others. That's the quickest way to feel horrible, haha! Serioulsy, don't do that! As artists we can be our own worst critics. Judge your skill and your work based on the progress you've made from your older art up until now. Trust me, you'll see a difference and you'll feel even better! It's great to see your own progress without putting yourself down when looking at AMAZING artwork. Believe in YOU!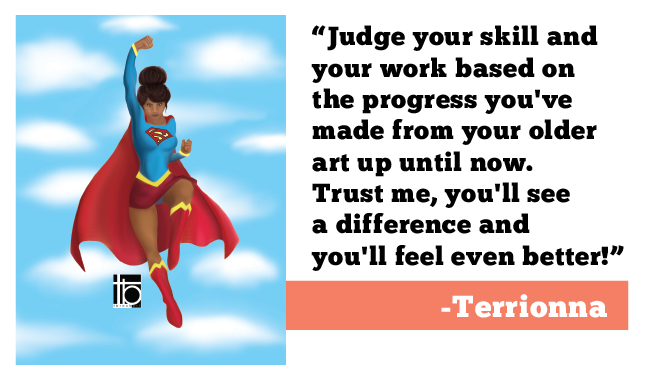 Keep up with Terrionna!
Instagram: @tbrockart
Blog: tbrockart.blogspot.com
Tumblr:@tbrockart
Email: terrionnab@gmail.com
Follow YBA!
IG: @youngblackartists
twitter: @ybartists
tumblr: youngblackartist.tumblr.com
facebook: Young Black Artists
Want to be featured!? Click here.