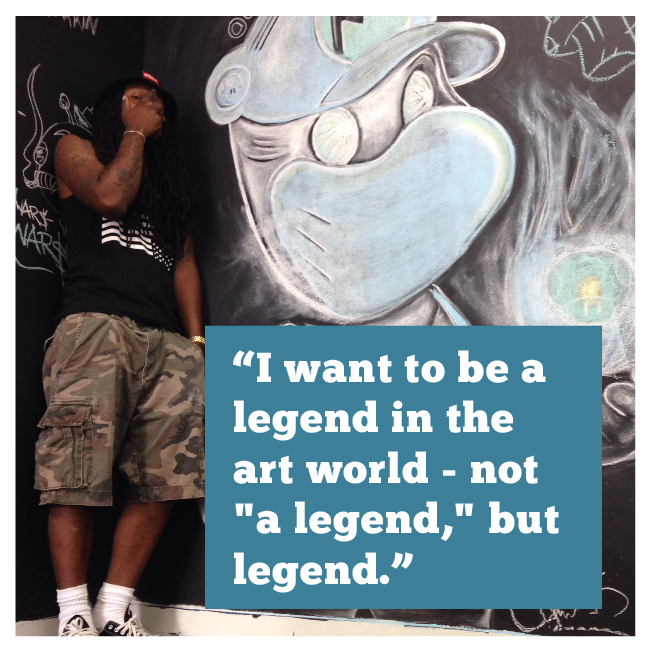 Tell us about yourself and what you do.
My Alias is "Quake the Creator" or simply "Quake." I originaed out of the Southside of Atlanta. I'm a visual "jack of all trades" artist. I use a variety or mediums from Copic Markers to aerosol to charcoal to acrylic. Charcoal is my Muse. Many are afraid of it, claiming that it's too messy. However, I love the way I can maneuver & control how I want the charcoal to look. That has always been the gratifying part of working with it.
When and why did you become an artist in your field?
I been doin art pretty much since a young guy, maybe 6-7 years old. I would always see the older kids in elementary school draw and I automatically wanted to do it…better yet, I KNEW I could do it. Of course, my little sketches wouldn't compare and I'd get upset. I would often get frustrated until my mom bought me tracing paper and told me to practice. So I traced EVERYTHING! Eventually, I realized I didn't need it anymore. I knew early that art would be my occupation in life.
What is your biggest obstacle as an artist? What is your biggest success?
The biggest obstacle I feel that hindered me in my art & creative process was me. I do believe I suffer from "The Creator's Curse" which puts your head in a state of mind that nothing you do is as good as others perceive your work to be. I said "I can't" a lot; I often psyched myself out of trying a lot of different artistic styles as a young artist which can definitely slow down your development as an artist, especially if you're trying to go the professional route.
For me, thinking like that often motivated me to create some of my best work. If I'm not as happy with a piece, I'll often try to top that work with something bigger, more detailed and more in-depth for the viewer in my next work of art.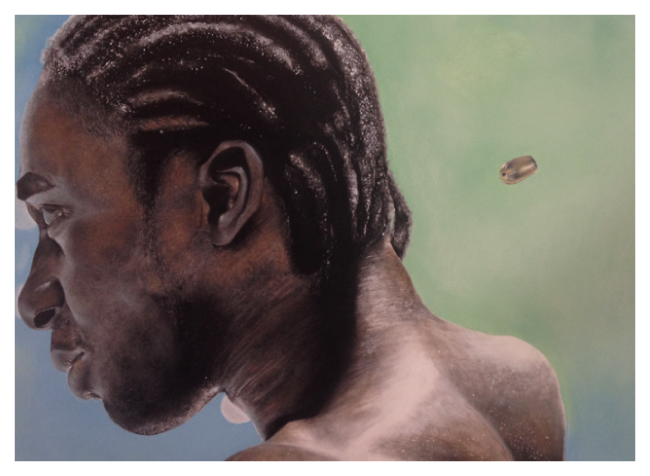 "Black Lives Shattered" by Quake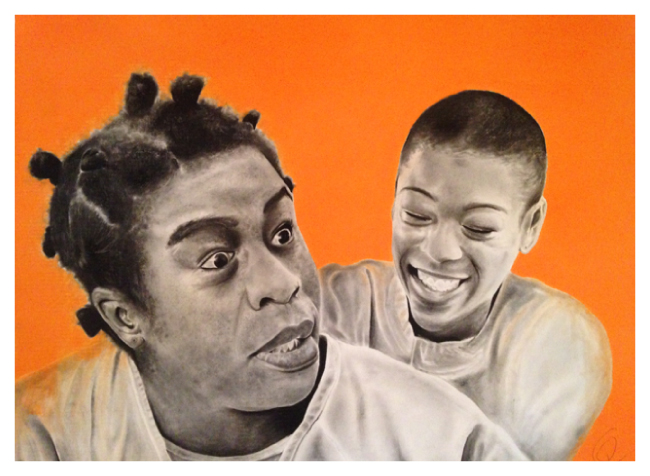 Orange is the New Black piece by Quake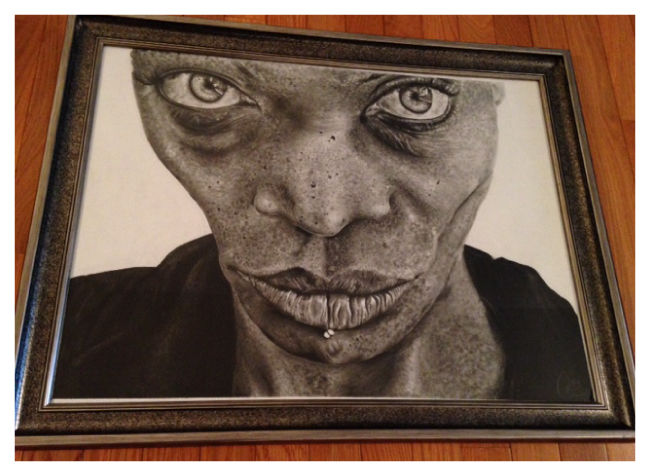 "Adjusted Beauty" by Quake
What inspires your work?
Where I come from, it wasn't like there were art shows and groups of artists just walking around for you to meet. I swear I would think I was the ONLY artist on my side of town. Now, I'm know that's not the case and there are plenty of artist walking among me, but I use that "one of a kind" mentality as motivation & inspiration. If I was going to walk around THINKING I was the only artist on the Southside, then I was going to become so skilled that if there were another artist around, they would be mad they didn't come across my work sooner…or blown away by my work to the point they wanted to learn from me. I want to be a legend in the art world – not "a legend," but legend.
What advice would you give an aspiring artist?
The biggest thing I would say an artist needs in there journey to progress in using ANY medium is
1- never become content, always challenge yourself. You can't grow as an artist if you're constantly creating in a style you've already mastered 100 times over. You can always reinvent yourself.
2- Draw/paint everything you see. Whether you use a subject or from the mind, every dot, white line, dark line, smudge, & shade has a purpose. Your work will improve dramatically.
3- Draw D A I L Y. Regardless if its just a 5-10 minute sketch or something that will take a bit longer, just do it. It keeps your mind in the creative process.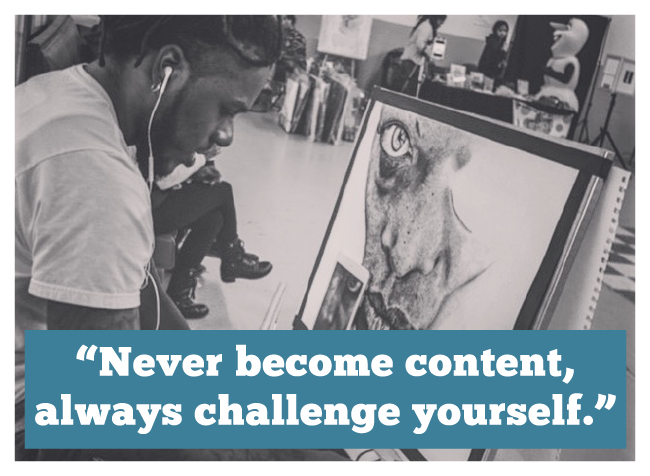 Keep up with QUAKE!
Instagram: @Quakesolo_
Twitter: @Quakesolo
Website: Conartistco.bigcartel.com
Follow YBA!
IG: @youngblackartists
twitter: @ybartists
tumblr: youngblackartist.tumblr.com
facebook: Young Black Artists
Want to be featured!? Click here.
Leave a comment telling us what inspired you most about this feature!