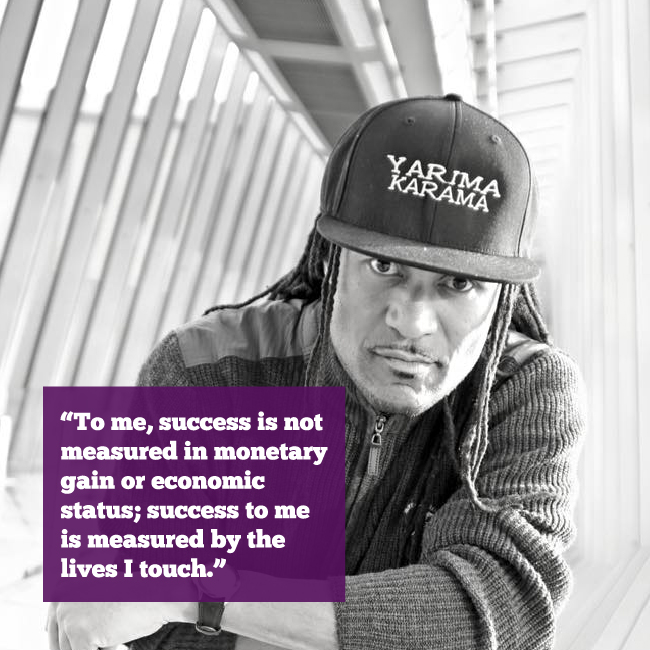 Tell us about yourself and what you do.
I'm a hip-hop artist, poet, writer, actor, and performer.  Hip-hop is my brother, poetry is my sister and the others mentioned are very very close relatives.  I've been writing lyrics since age 8 and then poetry followed.  In high school and college, I got into performing in school plays and then made the transition into writing my own.  When I got into college, English professors recognized my writing skill and introduced me to essay writing and more direct forms of writing.
When and why did you become an artist in your field?
I went to prison and continued to write, but now more intensely.  I also took performing more seriously, especially with hip-hop.  I became an artist because it has always been in me – It's always been natural for me. When it's natural, you're comfortable.  This is exactly what I'm supposed to be doing.  The money has never driven me; the audience, the message, the exchange of energy, and the facial expressions have driven me.
What is your biggest obstacle as an artist? What is your biggest success?
My biggest obstacle at this point is juggling a full time job along with maintaining my artist career.  I have to find time to travel, mostly weekends, and then focus on a job that I don't like, but I'm not making enough money in my artist career to sustain me.
My biggest success is yet to come.  I have successes every time I get on a stage and the crowd embraces what I'm doing.  To me, success is not measured in monetary gain or economic status; success to me is measured by the lives I touch.  That's what I strive for.  There are a few popular people in the world whose words are so powerful today and they've been gone from this plain for decades or centuries.  If my words can still stand after I'm gone then that is what it's about to me.
 I have quite a few videos on Youtube and my latest music video is called "Give You Back", which is a song showing some of the struggles that women fight through daily.
What inspires your work?
People, world events, bringing to life what I see on a daily basis inspire my work.  What I've learned is that some people don't know how to express – They see what's going on but they don't know how to verbalize it.  Some people live through something and they think no one else can relate or can feel their pain.  I step inside their world and their shoes and I tell there story.
What advice would you give an aspiring artist?
The only advice I'd give to any artist is to be true to who you are.  Know what you're doing it for.  Are you true to the art form itself or are you doing it for a bankroll?  Be honest with yourself, and remember that people are watching.  You have the potential to change someone's life for the better or make it worse, whether you want to believe it or not.
Keep up with Yarima!
Webpage: www.yarimakarama.com
Facebook: Yarima Karama
Twitter: @yarimakarama
Instagram: @yarimakarama
Youtube: Yarima Karama
You can find Yarima Karama's album titled MY TESTAMENT VOL 1. on Amazon, iTunes, Spotify, Reverberation.
Follow YBA!
IG: @youngblackartists
Twitter: @ybartists
Email: ybamovement@gmail.com